Innovation in healthcare using organ modeling and simulation: application in robotics and medical devices
Technology Days – Inria - NAFEMS
Hosted by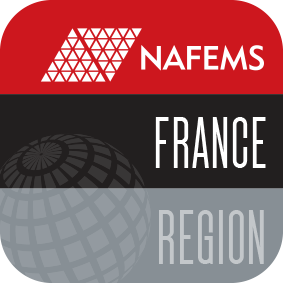 Inria and NAFEMS propose a new experience through the Technology Days.A unique occasion to discover open-source technologies, the latest research work and commercial solutions building tomorrow's future in healthcare. This first Technology Day focuses on the impact of simulation on robotics and medical devices.
Engineering simulation software has become invaluable within many industries. In the last decade, the role of simulation in medical curricula significantly increased to provide a virtual and safe environment to learn and rehearse surgical procedures. More recently, numerical simulation has been introduced to better plan the outcomes of surgeries, to design patient-specific prostheses or devices and even to develop intra-operative guidance tools. For device manufacturing, physics-based simulation coupling structural and cfd as well as messless technologies can be a strategic approach to shorten the design cycle and to reduce costs, by predicting and optimizing the interaction between the product and its physical environment.
In robotics, research teams are working on a new generation of robots: soft-robots. Such robots are partially or entirely made up of deformable material like silicon. With their deformable body allowing for an infinite number of degrees of freedom, soft-robots can maneuver with agility in sensitive environments, like the human body, while limiting the risk of damage. The modeling and control of such soft-robots opens very attractive perspectives in terms of new applications, reduction of manufacturing costs, robustness, efficiency and safety.
Provisionnal program:
Welcome & introduction: Hugo Talbot, Hugo Talbot, PhD
SOFA Consortium Coordinator - INRIA
Keynotes
Stéphane Cotin (INRIA) Optimus / Retro-control and/or Christian Durié (INRIA)
Thierry Marchal (general Manager - Avicenna)
Research session
Defrost: design and control of the new generation of soft-robots
Mimesis: accurate and efficient modeling coupling ML with simulation (Scikit-learn)
SimCardioTest EU project: design of predictive tools in cardiac pathologies for testing medicines and medical devices (Inria)
Platform session:
MedInria : medical image processing
SOFA: the open-source solution for collaborations, prototyping and innovation in simulation
OpenFoam: solution for computational fluid dynamics focus
Industry testimonials:
RoboCath
Anatoscope
Predisurg
InHeart
Pitch ideas / projects / collaborations
Animation: Alexandre Thomas Chargé de mission transverse du Pole Innovation chez SYSTEMATIC PARIS-REGION - France
Registration
Didier Large Mobile: +33 (0) 6 85 88 21 62