Cloud-based Simulations in Rimac Technology
Cloud computing is one of the ongoing trends in numerical simulations. Across multiple industries there exist trend to decrease costs of new product development, mostly by decreasing the investment physical prototyping and testing. Additionally, physical testing has its limitation, from number of sensors per device under test (DUT) to frequency of testing, which is not limited only by speed and costs of production, but also with the availability of testing facilities. Virtual prototyping and virtual testing using sophisticated numerical codes is becoming more and more dominant way of doing development. To successfully perform such task powerful HPC cluster are needed. They are either built on-premise within the companies or rented from different government organizations or universities. Another way to access HPC computing power is HPC cloud computing. There are barriers to uptake, either having on-premise HPC cluster or a cloud solution2. Two leading barriers for on premise HPC cluster are high software and hardware costs, while for a cloud-based solution those are total cost of ownership and data security. Rimac Technology HPC journey started with utilization of one university HPC cluster, then moved to on-premise HPC cluster and finally having a hybrid solution combining on-premise HPC cluster with a cloud solution. Initially, during first half of 2021, detailed Proof-of Concept (PoC) was done with several cloud providers. The results, speed and Total Costs of Ownership (TCO) has been compared to Rimac Technology on-premise solution. Microsoft Azure with UberCloud platform has been selected as preferred vendors. Now, almost two years using cloud solution there are multiple lessons learned from POC, creating custom solution, and putting it in production. Multiple benefits of using cloud computations are also going to be discussed.

2Computing Platforms for Engineering Simulations 2015 vs 2020, Lee Margetts, University of Manchester, Benchmark , July 2021
Dr. Ivan Krajinović is Head of Simulations at Rimac Technology, Croatia. He organized and leads the Simulations department, which is responsible for structural, electrical and thermal simulations of different components of electric powertrain. Simulations department is working on all major Rimac Technology's projects for major automotive OEMs. Showcase of what has been done are components that power Rimac's electric hypercar Nevera, fastest accelerating production car in the world.
Fatigue Design of Additive Layer Manufacturing Materials
Additive layer manufacturing (AM) has been rapidly evolving over the last decade, and more and more industrial application examples are to be seen in the aerospace sector. This can be attributed to the compatibility of this technology of the characteristic objectives from this sector; namely small production values with flexible delivery schedule and lightweighting. The critical technical challenge being the certification of structural performance and reliability, fatigue research is at the forefront of engineering development. In the keynote lecture a summary of the AM specific fatigue process is presented, where the role of surface and subsurface defects is highlighted, since they have a dominant impact by controlling the fatigue properties. A modelling strategy is proposed to evaluate the influence of defect morphology on the fatigue limit of additively manufactured Al alloys by;
(a, b, c) obtaining a 3D image of defect population from X-ray micro-computed tomography (µ-CT) or process simulation, (d) computing the Equivalent Inertia Ellipse of each individual pore,
(e) modelling the influence of the defect on the fatigue limit through the DSG approach and,
(f) 3D mapping the criticality of each individual defect.
The Methodology is validated through fatigue tests conducted on AlSi10Mg alloy manufactured by selective laser melting. Modelling strategy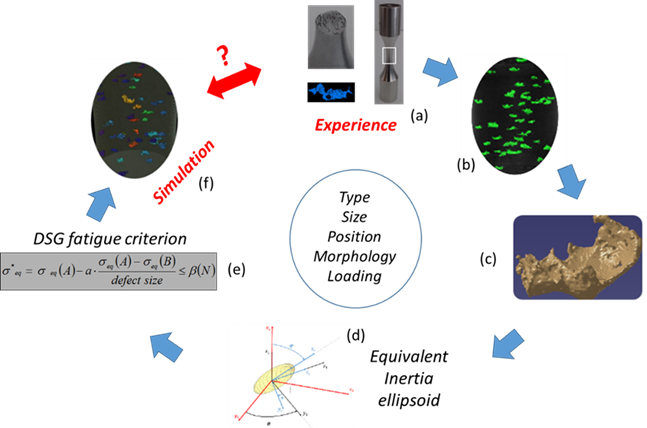 Figure 1: Modelling strategy: (a) fatigue sample: fatigue limit and critical defect identified, (b) 3D µ-CT image of the gauge section, (c) each porosity is imaged and labeled, (d) the EIE is computed, (e) the DSG criterion is computed for each individual defect, (f) 3D rendering of the criticality of all defects
Yves Nadot is a Full Professor at the National School of Mechanics and Aerotechnics, located at Poitiers Futuroscope. He leads the research teams "Damage" and "Physics and Mechanics of Materials" and is an active contributor to the research on the defect induced fatigue process. He worked on industrial collaboration projects with the companies SAFRAN, Zodiac Aerospace, Renault, Airbus, Knorr-Bremse, SNCF, and RR.
5G Applications in the Context of Human Exposure
Long awaited and discussed, the 5th generation of wireless networks – 5G – is becoming a reality. While the typical perception is that 5G is a consumer-focused upgrade of the previous cellular network communication protocols, its impact on industry will be tremendous, 5G being a key part of the industry digitalization process for several industries. It will connect not only people, but also equipment and vehicles, powering the Industrial Internet of Things and the development of smart factories. All this requires innovative antenna systems, designed to function in extremely complex environments and in various frequency ranges.
One essential prerequisite of the 5G success is to make these connections reliable – taking into account electromagnetic, mechanical and thermal performance, but also safe for the people using them to ensure public acceptance.
After an introduction to the 5G characteristics and challenges, the talk will present some complex scenarios and will show how simulation can help answer questions such as: Can a stable connection between a multitude of devices and sensors in a particular industrial setting be achieved? How does the movement of equipment and people influence the connection quality? How to evaluate the electromagnetic field level around and inside the human body and assess safety levels?
Prof. dr. Irina Munteanu is Strategy and Business Development Director at Dassault Systemes, leading strategic projects in various industries and areas of technology, in particular electronics. She also teaches electromagnetics and simulation-related courses at the Technical University of Darmstadt, Germany and authored/co-authored more than 120 papers and 6 books. Her research interests include: numerical methods for electromagnetic field simulation, electromagnetic compatibility, signal integrity, lightning strikes simulation, optimization and reduced order modeling.