The GEM Modelling Methodology
The GEM Modelling Methodology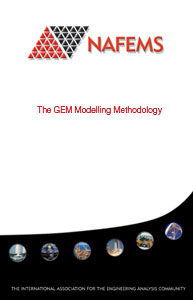 Due to the evolving nature of the engineering analysis and simulation market this publication no longer represents current best practice and has been archived. The document may be of historical interest and is therefore still available for purchase

This Generic Engineering analysis Model (GEM),  deliverable D1201 describes the Modelling Methodology adopted by and applied in the ESPIRIT Project No. 8894 – GEM. GEM is the acronym for Generic Engineering-analysis Model.
The methodology can be applied to integrate software applications in the context of Engineering-analysis in an open, ISO-STEP-compliant way. These applications cover in the first place:-
Product Analysis Modellers
Mesh Generators
Analysis Packages and/or Modules, and
Post-processors.
On the boundary we find CAD Systems or the more advanced Product Design Modellers which might also be integrated to provide the relevant input to the Engineering-analysis process.
The result of applying the methodology is referred to as an Open-Engineering-analysis System (OES). This might be changed during the project.
Contents
Document control sheet
Abstract
Assumptions
Introduction
Goal of this deliverable

Further use within GEM

GEM Modelling Methodology: What's In?

GEM Way of Thinking
Introduction

Harmonisation Level

Enterprise Level

Application Communication Direction

Inter-operability Aspect

GEM Context Summarised

Data exchange requirements
GEM Way of Working
Introduction

Planning phase

Data analysis phase

Data specification phase

Implementation phase

Dissemination phase

GEM Way of Modelling
Physical Objects Layer

Application Layer

Domain Layer

Dictionary Layer

Fundamental Layer

Resulting GEM Scope Framework

GEM Way of Supporting

GEM Road Map

References

List of Figures

Appendices  
Product Details
Member Price
£25.00 | $31.29 | €27.97
Non-member Price
£100.00 | $125.14 | €111.86

About
H.M. Bohms
First Published - February 1995
Softback - 112 Pages