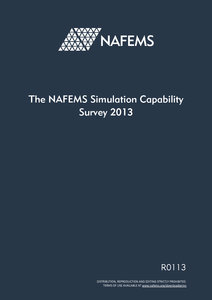 Today's engineering simulation software such as Finite Element Analysis, Computational Fluid Dynamics, and Multi-Body Simulation, provide a huge range of capabilities for users of these technologies. Even so, the vendors of this software continue to devote substantial resources to the development of new capabilities and the improvement of existing capabilities.
Under the umbrella of NAFEMS, the vendors of this software meet from time to time as a group called the NAFEMS Vendor Advisory Board (VAB). Each vendor does their own research into the demand for the capabilities they provide however the VAB decided there was considerable value to trying to gain a more global view of capability demand.
The Vendor Advisory Board initiated this survey, which has been conducted by NAFEMS, to provide insight into the use of simulation capabilities.Specifically the survey was designed to determine which capabilities:
were being most used,

had the greatest (and least)impact,

were most in need of improvement,and

were more likely to increase in usage in the future.
The survey was conducted from March to May 2013. Respondents were sought through NAFEMS' contacts as well as through the contacts of a number of simulation software vendors. This resulted in over 1,000 meaningful responses.
The results of the survey are presented as a set of bar charts. Results are presented for the full set of responses and also for a subset of responses from respondents who are experienced in the use of CFD capabilities. This subset consisted of 256 respondents. See for further details of the nature of the respondents in this subset. The barcharts related to this subset have CFD at the beginning of the title of the barchart.