An Engineers' Guide to Using an External HPC Facility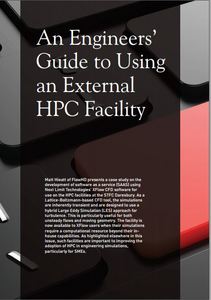 Matt Hieatt of FlowHD presents a case study on the development of software as a service (SAAS) using
Next Limit Technologies' XFlow CFD software for use on the HPC facilities at the STFC Daresbury. As a
Lattice-Boltzmann-based CFD tool, the simulations are inherently transient and are designed to use a
hybrid Large Eddy Simulation (LES) approach for turbulence. This is particularly useful for both unsteady flows and moving geometry. The facility is now available to XFlow users when their simulations require a computational resource beyond their inhouse capabilities. As highlighted elsewhere in this issue, such facilities are important to improving the adoption of HPC in engineering simulations, particularly for SMEs.


Document Details
| | |
| --- | --- |
| Reference | BM_Apr_16_4 |
| Author | Hieatt. M |
| Language | English |
| Audiences | Analyst Manager |
| Type | Magazine Article |
| Date | 1st April 2016 |
| Organisation | FlowHD |
| Region | Global |
Download
Purchase Download
| | |
| --- | --- |
| Order Ref | BM_Apr_16_4 Download |
| Non-member Price | £5.00 | $6.19 | €5.56 |
Back to Search Results