SimReady Assessing Manufacturing Modelling & Simulation Readiness Levels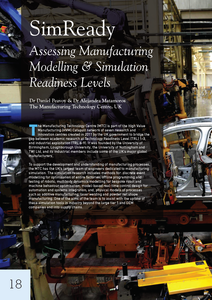 The Manufacturing Technology Centre (MTC) is part of the High Value Manufacturing (HVM) Catapult network of seven research and innovation centres created in 2011 by the UK government to bridge the gap between academic research at Technology Readiness Level (TRL) 1-3, and industrial exploitation (TRL 6-9). It was founded by the University of Birmingham, Loughborough University, the University of Nottingham and TWI Ltd, and its industrial members include some of the UK's major global manufacturers.

To support the development and understanding of manufacturing processes, the MTC has the UK's largest team of engineers dedicated to manufacturing simulation. The simulation research includes methods for: discrete event modelling for optimisation of entire factories; offline programming and testing of robots; multibody dynamics modelling for bespoke robot and machine behaviour optimisation; model-based real-time control design for automation and systems integration; and, physical models of processes such as additive manufacturing, laser welding and powder net shape manufacturing. One of the aims of the team is to assist with the uptake of these simulation tools in industry beyond the large tier 1 and OEM companies and into supply chains.
Document Details
| | |
| --- | --- |
| Reference | BM_Apr_17_3 |
| Authors | Peavoy. D Matamoros. A |
| Language | English |
| Type | Magazine Article |
| Date | 1st April 2017 |
| Organisation | The Manufacturing Technology Centre |
| Region | Global |
Download
Purchase Download
| | |
| --- | --- |
| Order Ref | BM_Apr_17_3 Download |
| Non-member Price | £5.00 | $6.20 | €5.58 |
Back to Search Results