This Website is not fully compatible with Internet Explorer.
For a more complete and secure browsing experience please consider using
Microsoft Edge
,
Firefox
, or
Chrome
What Few People Discuss About Digital Twins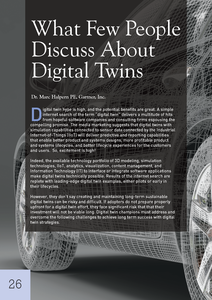 Digital twin hype is high, and the potential benefits are great. A simple internet search of the term "digital twin" delivers a multitude of hits from hopeful software companies and consulting firms espousing the compelling promise. The media marketing suggests that digital twins with simulation capabilities connected to sensor data connected by the Industrial Internet-of-Things (IIoT) will deliver predictive and reporting capabilities that enable better product and systems designs, more profitable product and systems lifecycles, and better lifecycle experiences for the customers and users. So, excitement is high! Indeed, the available technology portfolio of 3D modeling, simulation technologies, IIoT, analytics, visualization, content management, and Information Technology (IT) to interface or integrate software applications make digital twins technically possible. Results of the internet search are replete with leading-edge digital twin examples, either pilots or early in their lifecycles. However, they don't say creating and maintaining long-term sustainable digital twins can be risky and difficult. If adopters do not prepare properly upfront for a digital twin effort, they face significant risk that that their investment will not be viable long. Digital twin champions must address and overcome the following challenges to achieve long term success with digital twin strategies.
Document Details
| | |
| --- | --- |
| Reference | BM_Apr_18_10 |
| Author | Halpern. M |
| Language | English |
| Type | Magazine Article |
| Date | 1st April 2018 |
| Organisation | Gartner Inc |
| Region | Global |
Download
Purchase Download
| | |
| --- | --- |
| Order Ref | BM_Apr_18_10 Download |
| Non-member Price | £5.00 | $6.29 | €5.83 |
Back to Search Results