This Website is not fully compatible with Internet Explorer.
For a more complete and secure browsing experience please consider using
Microsoft Edge
,
Firefox
, or
Chrome
The Digital Twin for Engineering Applications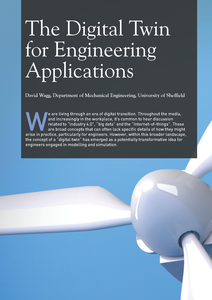 We are living through an era of digital transition. Throughout the media, and increasingly in the workplace, it's common to hear discussion related to "Industry 4.0", "big data" and the "Internet-of-things". These are broad concepts that can often lack specific details of how they might arise in practice, particularly for engineers. However, within this broader landscape, the concept of a "digital twin" has emerged as a potentially transformative idea for engineers engaged in modelling and simulation.
Document Details
| | |
| --- | --- |
| Reference | BM_Apr_18_8 |
| Author | Wagg. D |
| Language | English |
| Type | Magazine Article |
| Date | 1st April 2018 |
| Organisation | University of Sheffield |
| Region | Global |
Download
Purchase Download
| | |
| --- | --- |
| Order Ref | BM_Apr_18_8 Download |
| Non-member Price | £5.00 | $6.13 | €5.79 |
Back to Previous Page