Escape from Meshing and RANS Turbulence Models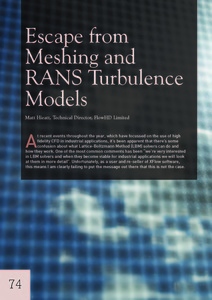 At recent events throughout the year, which have focussed on the use of highfidelity CFD in industrial applications, it's been apparent that there's some confusion about what Lattice-Boltzmann Method (LBM) solvers can do and how they work. One of the most common comments has been: 
"we're very interested in LBM solvers and when they become viable for industrial applications we will look at them in more detail". 
Unfortunately, as a user and re-seller of XFlow software, this means I am clearly failing to put the message out there that this is not the case.
Document Details
| | |
| --- | --- |
| Reference | BM_Jan_17_14 |
| Author | Hieat. M |
| Language | English |
| Audience | Analyst |
| Type | Magazine Article |
| Date | 1st January 2017 |
| Organisation | FlowHD Limited |
| Region | Global |
Download
Purchase Download
| | |
| --- | --- |
| Order Ref | BM_Jan_17_14 Download |
| Non-member Price | £5.00 | $6.34 | €5.59 |
Back to Search Results