This Website is not fully compatible with Internet Explorer.
For a more complete and secure browsing experience please consider using
Microsoft Edge
,
Firefox
, or
Chrome
Designer Oriented Software Is it Accurate?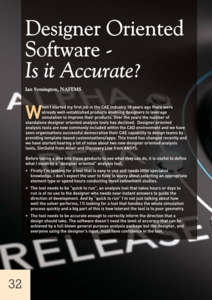 When I started my first job in the CAE industry 18 years ago there were already well-established products enabling designers to leveragesimulation to improve their products. Over the years the number of standalone designer oriented analysis tools has declined. Designer oriented analysis tools are now commonly included within the CAD environment and we have seen organisations successful democratise their CAE capability to design teams by providing template-based customisations/apps. This trend has changed recently and we have started hearing a lot of noise about two new designer oriented analysis tools, SimSolid from Altair and Discovery Live from ANSYS.

Before taking a dive into these products to see what they can do, it is useful to define what I mean by a "designer oriented" analysis tool.
• Firstly I'm looking for a tool that is easy to use and needs little specialist knowledge, I don't expect the user to have to worry about selecting an appropriate element type or spend hours conducting mesh refinement studies.
• The tool needs to be "quick to run", an analysis tool that takes hours or days to run is of no use to the designer who needs near instant answers to guide the direction of development. And by "quick to run" I'm not just talking about how well the solver performs, I'll looking for a tool that handles the whole simulation process quickly and a big part of this is how tolerant the tool is to poor geometry.
• The tool needs to be accurate enough to correctly inform the direction that a design should take. The software doesn't need the level of accuracy that can be achieved by a full blown general purpose analysis package but the designer, and everyone using the designer's input, must have confidence in the tool.
Document Details
| | |
| --- | --- |
| Reference | BM_Jan_20_1 |
| Author | Symington. I |
| Language | English |
| Audiences | Analyst Manager |
| Type | Magazine Article |
| Date | 16th January 2020 |
| Organisation | NAFEMS |
| Region | Global |
Download
Back to Search Results