This Website is not fully compatible with Internet Explorer.
For a more complete and secure browsing experience please consider using
Microsoft Edge
,
Firefox
, or
Chrome
Stochastic Challenge Problems - A Summary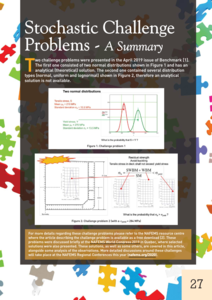 Two challenge problems were presented in the April 2019 issue of Benchmark.The first one consisted of two normal distributions shown in Figure 1 and has ananalytical (theoretical) solution. The second one contained several distribution types (normal, uniform and lognormal) shown in Figure 2, therefore an analytical solution is not available.

For more details regarding these challenge problems please refer to the NAFEMS resource centre where the article describing the challenge problem is available as a free download [2]. These problems were discussed briefly at the NAFEMS World Congress 2019 in Quebec, where selected solutions were also presented. These solutions, as well as some others, are covered in this article, alongside some analysis of the observations. More detailed discussions around these challenges will take place at the NAFEMS Regional Conferences this year (nafems.org/2020).
Document Details
| | |
| --- | --- |
| Reference | BM_Jan_20_7 |
| Author | Stochastic Working Group |
| Language | English |
| Audiences | Analyst Student Educator |
| Type | Magazine Article |
| Date | 16th January 2020 |
| Organisation | NAFEMS |
| Region | Global |
Download
Back to Search Results