This Website is not fully compatible with Internet Explorer.
For a more complete and secure browsing experience please consider using
Microsoft Edge
,
Firefox
, or
Chrome
Benchmark January 2020 - The Electromagnetics Issue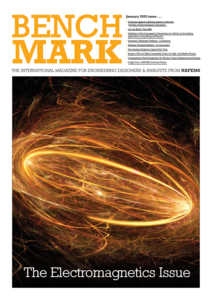 In this issue we've got articles on lightning effects on aircraft (terrifying), V2X (Vehicle to Everything) technology (futuristic), 5G mobile phone antenna (geeky), and nuclear reactors (powerful). Add to that a look at designer-oriented analysis tools by NAFEMS' Technical Officer, Ian Symington, as well as a summary of the responses we received to April 2019's stochastics challenge problems, and we've got another issue that's groaning at the staples. An excellent addition to our 'technical fellows' series rounds things off, as well as information on how you can get involved in our upcoming series of regional conferences, which start in the spring.
Document Details
| | |
| --- | --- |
| Reference | BM_Jan_20_PDF |
| Author | NAFEMS |
| Language | English |
| Audiences | Analyst Manager Developer Student |
| Type | Magazine |
| Date | 16th January 2020 |
| Organisation | NAFEMS |
| Region | Global |
Download
Purchase Download
| | |
| --- | --- |
| Order Ref | BM_Jan_20_PDF Download |
| Non-member Price | £14.00 | $17.63 | €16.36 |
Purchase Book
| | |
| --- | --- |
| Order Ref | BM_Jan_20_PDF Book |
| Member Price | £12.00 | $15.11 | €14.02 |
| Non-member Price | £14.00 | $17.63 | €16.36 |
Back to Previous Page