This Website is not fully compatible with Internet Explorer.
For a more complete and secure browsing experience please consider using
Microsoft Edge
,
Firefox
, or
Chrome
Does the Big Getting Bigger Stifle Innovation? I Don't Think so…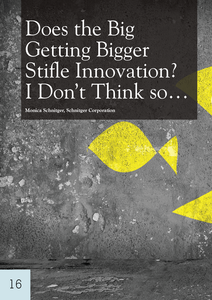 If we took a look at how the simulation software provider landscape has changed over the last few years, we'd see that one thing is immediately apparent. The big vendors are getting bigger. They're acquiring partners and competitors to grow their reach, both in terms of offerings and go-to-market abilities. Each deal adds to the physics capabilities they offer and enables them to expand to new end-industries or grow their share of wallet in current industries. Since each acquisition comes with its own direct or indirect sales processes, they also get more resources to engage with those customers and prospects. This is incredibly important since it's far easier to call on one customer and sell them a lot than it is to call on many customers to sell a similar amount.
Document Details
| | |
| --- | --- |
| Reference | BM_Jan_21_4 |
| Author | Schnitger. M |
| Language | English |
| Type | Magazine Article |
| Date | 10th February 2021 |
| Organisation | Schnitger Corporation |
| Region | Global |
Download
Purchase Download
| | |
| --- | --- |
| Order Ref | BM_Jan_21_4 Download |
| Non-member Price | £5.00 | $6.27 | €5.82 |
Back to Search Results