The Applicability of Artificial Intelligence in Design and Manufacturing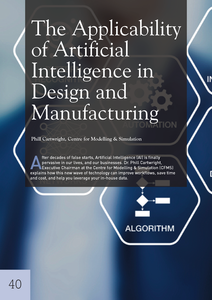 This article featured in the July 2018 edition of benchmark "Artificial Intelligence & Machine Learning - Believe the Hype?"

After decades of false starts, Artificial Intelligence (AI) is finally pervasive in our lives, and our businesses. Dr. Phill Cartwright, Executive Chairman at the Centre for Modelling & Simulation (CFMS) explains how this new wave of technology can improve workflows, save time and cost, and help you leverage your in-house data.
Document Details
| | |
| --- | --- |
| Reference | Bm_Jul_18_5 |
| Author | Cartwright. P |
| Language | English |
| Audience | Manager |
| Type | Magazine Article |
| Date | 1st July 2018 |
| Organisation | Centre for Modelling & Simulation |
| Region | Global |
Download
Purchase Download
| | |
| --- | --- |
| Order Ref | Bm_Jul_18_5 Download |
| Non-member Price | £5.00 | $6.19 | €5.56 |
Back to Search Results