Aerospace Simulation Engineering: The Big Issues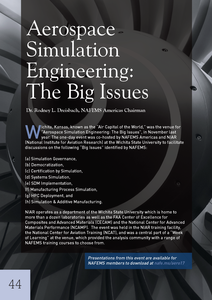 This article featured in the July 2018 edition of benchmark "Artificial Intelligence & Machine Learning - Believe the Hype?"

Wichita, Kansas, known as the "Air Capital of the World," was the venue for "Aerospace Simulation Engineering: The Big Issues", in November last year. The one-day event was co-hosted by NAFEMS Americas and NIAR (National Institute for Aviation Research) at the Wichita State University to facilitate discussions on the following "Big Issues" identified by NAFEMS: (a) Simulation Governance, (b) Democratization, (c) Certification by Simulation, (d) Systems Simulation, e) SDM Implementation, (f) Manufacturing Process Simulation, (g) HPC Deployment, and (h) Simulation & Additive Manufacturing. NIAR operates as a department of the Wichita State University which is home to more than a dozen laboratories as well as the FAA Center of Excellence for Composites and Advanced Materials (CECAM) and the National Center for Advanced Materials Performance (NCAMP). The event was held in the NIAR training facility, the National Center for Aviation Training (NCAT), and was a central part of a "Week of Learning" at the venue, which provided the analysis community with a range of NAFEMS training courses to choose from.
Document Details
| | |
| --- | --- |
| Reference | Bm_Jul_18_6 |
| Author | Dreisbach. R |
| Language | English |
| Audiences | Manager Analyst |
| Type | Event Review |
| Date | 1st July 2018 |
| Organisation | NAFEMS |
| Region | Global |
Download
Back to Search Results