Analysis Origins - KFX and FLACS Modelling Explosions and Combustion and the Impact of Piper Alpha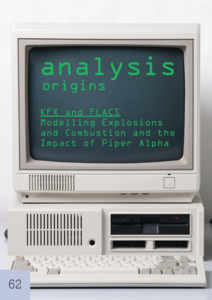 This article featured in the July 2018 edition of benchmark "Artificial Intelligence & Machine Learning - Believe the Hype?"

The catastrophic loss of the Piper Alpha platform claimed the lives of 167 people. On 6 July 1988, a small explosion caused secondary damage that resulted in a second larger explosion and then a sustained major fire. With a total insured loss of £1.7 billion (US$3.4 billion) it remains one of the costliest manmade disasters in history. Lord Cullen led the subsequent public inquiry into the tragedy, and his report outlined 106 recommendations for changes to safety procedures in the UK sector of the North Sea. In the aftermath of Piper Alpha and the Cullen Inquiry, a new focus was placed on modelling approaches for predicting fire and explosion events, including the use of computational fluid dynamics for mitigating the risk of fire and explosion damage. This feature considers the origins of two of the leading CFD codes for simulating fires and explosions in the offshore industry: KFX/Exsim and FLACS. The Piper Alpha disaster was one that none of us wishes to repeat, but the lessons learned following the event rough validation of numerical tools via experimental programmes have greatly improved our understanding of explosions and mitigation methods, which has helped to make our offshore facilities safer places to live and work. However, we mustn't be complacent. As the physical size and complexity of some of the new offshore facilities grow, we need to be aware of new associated risks – specifically DDT (deflagration detonation transition), where a subsonic explosion (a deflagration) may accelerate to the point where it can transition to a supersonic detonation. This is what is understood to have happened at Buncefield in 2005, and it is important because the level of damage is much more severe for a detonation. There remain important challenges for the industry, specifically for the simulation tools in terms of their predictive capability and how they are used in practice. None of the CFD tools can yet robustly simulate detonations, but there are at least some measures relating to local pressure gradient that can e used to check for the onset of DDT. It is important, as an industry, that we remember the lessons of Piper Alpha and continue to develop the simulation tools for the new challenges ahead.
Document Details
| | |
| --- | --- |
| Reference | Bm_Jul_18_8 |
| Authors | Howell. S Evanger. T Shearer. F Magnussen. B Keating. M Skjold T Siccama. D |
| Language | English |
| Audiences | Analyst Developer Educator |
| Type | Magazine Article |
| Date | 1st July 2018 |
| Organisations | Abercus ComputIT Gexcon |
| Region | Global |
Download
Purchase Download
| | |
| --- | --- |
| Order Ref | Bm_Jul_18_8 Download |
| Non-member Price | £5.00 | $6.14 | €5.58 |
Back to Search Results