Moving Towards Virtual Manufacturing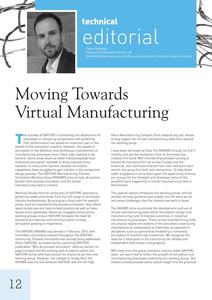 The success of NAFEMS in promoting the deployment ofsimulation in designing components and predictingtheir performance has played an important part in the growth of the simulation industry. However, the uptake of
simulation in the definition and continuous improvement of manufacturing processes hasn't been fully realised in all sectors. Some areas (such as sheet metal pressing) have embraced simulation methods to drive improvements, however, in many other sectors valuable simulation capabilities have struggled to gain traction in the component design process. The NAFEMS Manufacturing Process Simulation Working Group (MANWG) aims to help all sectors benefit from process simulation and the virtual manufacturing tools it creates.

Document Details
| | |
| --- | --- |
| Reference | BM_Oct_16_2 |
| Author | Giddings. P |
| Language | English |
| Audiences | Analyst Manager |
| Type | Magazine Article |
| Date | 1st October 2016 |
| Organisation | National Composites Centre |
| Region | Global |
Download
Purchase Download
| | |
| --- | --- |
| Order Ref | BM_Oct_16_2 Download |
| Non-member Price | £5.00 | $6.27 | €5.55 |
Back to Search Results