This Website is not fully compatible with Internet Explorer.
For a more complete and secure browsing experience please consider using
Microsoft Edge
,
Firefox
, or
Chrome
Insight from a NAFEMS Technical Fellow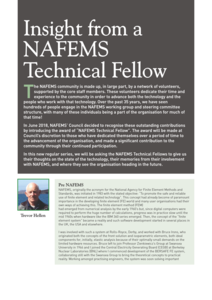 The NAFEMS community is made up, in large part, by a network of volunteers,supported by the core staff members. These volunteers dedicate their time andexperience to the community in order to advance both the technology and the people who work with that technology. Over the past 35 years, we have seen hundreds of people engage in the NAFEMS working group and steering committee structure, with many of these individuals being a part of the organisation for much of that time! In June 2018, NAFEMS' Council decided to recognise these outstanding contributions by introducing the award of "NAFEMS Technical Fellow". The award will be made at Council's discretion to those who have dedicated themselves over a period of time to the advancement of the organisation, and made a significant contribution to the community through their continued participation. In this new regular series, we will be asking the NAFEMS Technical Fellows to give us their thoughts on the state of the technology, their memories from their involvement with NAFEMS, and where they see the organisation heading in the future.
Document Details
| | |
| --- | --- |
| Reference | BM_Oct_18_5 |
| Author | Hellen. T |
| Language | English |
| Audiences | Analyst Developer |
| Type | Magazine Article |
| Date | 1st October 2018 |
| Region | Global |
Download
Purchase Download
| | |
| --- | --- |
| Order Ref | BM_Oct_18_5 Download |
| Non-member Price | £5.00 | $6.30 | €5.85 |
Back to Previous Page