This Website is not fully compatible with Internet Explorer.
For a more complete and secure browsing experience please consider using
Microsoft Edge
,
Firefox
, or
Chrome
Virtual Testing For Certification - Appropriate Use of Modeling and Simulation to support Regulatory Decisions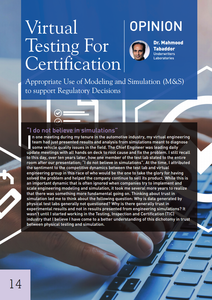 "I do not believe in simulations"
In one meeting during my tenure in the automotive industry, my virtual engineering team had just presented results and analysis from simulations meant to diagnose some vehicle quality issues in the field. The Chief Engineer was leading daily update meetings with all hands on deck to root cause and fix the problem. I still recall to this day, over ten years later, how one member of the test lab stated to the entire room after our presentation; "I do not believe in simulations". At the time, I attributed the sentiment to the competitive dynamics between the test lab and virtual engineering group in this race of who would be the one to take the glory for having solved the problem and helped the company continue to sell its product. While this is an important dynamic that is often ignored when companies try to implement and scale engineering modeling and simulation, it took me several more years to realize that there was something more fundamental going on. Thinking about trust in simulation led me to think about the following question: Why is data generated by physical test labs generally not questioned? Why is there generally trust in experimental results and not in results presented from engineering simulations? It wasn't until I started working in the Testing, Inspection and Certification (TIC) industry that I believe I have come to a better understanding of this dichotomy in trust between physical testing and simulation.
Document Details
| | |
| --- | --- |
| Reference | BM_Oct_20_6 |
| Author | Tabaddor. M |
| Language | English |
| Audience | Manager |
| Type | Magazine Article |
| Date | 11th November 2020 |
| Organisation | Underwriters Laboratories |
| Region | Global |
Download
Purchase Download
| | |
| --- | --- |
| Order Ref | BM_Oct_20_6 Download |
| Non-member Price | £5.00 | $6.29 | €5.83 |
Back to Search Results