Einsatz Der Z88-Familie In Der Lehre Sowie Zur Weiterbildung Von Kleinen Und Mittelstandischen Unternehmen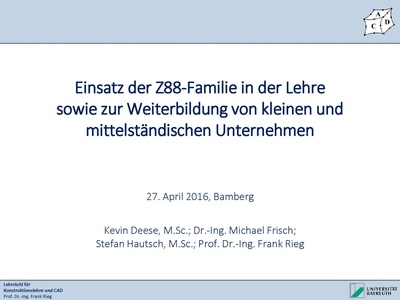 This presentation was made by K. Deese, M. Frisch, S. Hautsch, F. Rieg at the German-speaking NAFEMS 2016 German speaking conference held in Bamburg Germany on the 25th to the 27th of April 2016. 
The event focused on "calculation and simulation – applications, developments and trends". 
The 3rd German-language NAFEMS Regional Conference offers you a unique, independent, neutral, comprehensive and comprehensive range of information on numerical simulation methods.
Document Details
| | |
| --- | --- |
| Reference | C_Apr_16_DACH_25_1 |
| Authors | Deese. K Frisch. M Hautsch. S Rieg. F |
| Language | German |
| Audience | Analyst |
| Type | Presentation |
| Date | 25th April 2016 |
| Organisation | University of Bayreuth |
| Region | DACH |
Download
Back to Search Results