Simulation Of Entfluchtungsverhaltens In The Planning Phase Of Buildings By Means Of Automated Process Integration And Design Optimization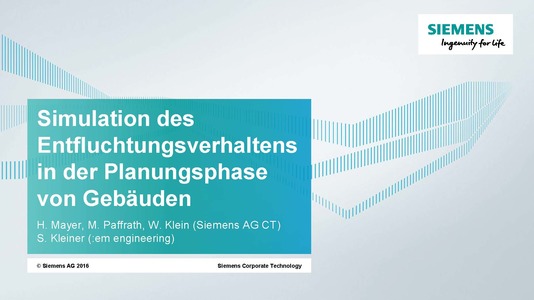 This presentation was made by H. Mayer, M. Paffrath, W. Klein, S. Kleiner at the German-speaking NAFEMS 2016 German speaking conference held in Bamburg Germany on the 25th to the 27th of April 2016. 
The event focused on "calculation and simulation – applications, developments and trends". 
The 3rd German-language NAFEMS Regional Conference offers you a unique, independent, neutral, comprehensive and comprehensive range of information on numerical simulation methods.
Document Details
| | |
| --- | --- |
| Reference | C_Apr_16_DACH_29_3 |
| Authors | Mayer. H Paffrath. M Klein. W Kleiner. S |
| Language | English |
| Type | Presentation |
| Date | 25th April 2016 |
| Organisations | Siemens :em engineering |
| Region | DACH |
Download
Back to Search Results