Modelling, Analyses & Simulation: The Link with Artificial Intelligence to improve Design for Manufacturing & Services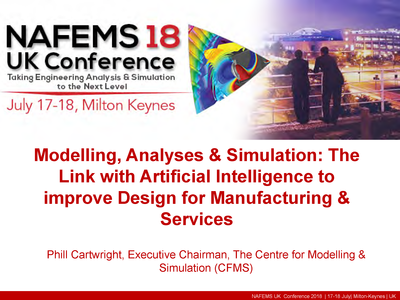 This presentation was made at NAFEMS UK Conference 2018, Taking Engineering Analysis and Simulation to the Next Level".

The NAFEMS UK Conference 2018 brought together all those involved in analysis and simulation from every corner of industry and academia, giving them an opportunity to advance their knowledge, give their organisations a competitive advantage, and a chance to be part of improving the technology itself.

Resource Abstract

The engineering community faces incredible challenges over the next decade. The transport sector is rapidly evolving from fossil fuelled manually driven vehicles to electric or hybrid powered, unmanned and connected services. This is providing huge challenges for developing associated skills and technologies. And all within a backdrop of rapidly increased demand from a growing global demographic change and a more connected world. For example; the construction sector is wrestling with three dimensional printing of buildings, the aerospace sector with the electric propulsion revolution, and healthcare is embracing robotics and automation. Within this challenging environment, Artificial Intelligence (AI) is beginning to touch all of our lives. It is clear that the application of numerical engineering simulation techniques such as Finite Element Method for Structural Analysis, Computational Fluid Dynamics, and Multibody Simulation are playing dominant roles in all of these developments.

This presentation highlights some of the global technology trends in play and provides real world examples of AI developments being applied in practical Modelling and Simulation. It opens up the challenge to the NAFEMS community, and asks; what impact the engineering community will have in a world of AI, robotics and automation.
Document Details
| | |
| --- | --- |
| Reference | C_Jul_18_UK_19 |
| Author | Cartwright. P |
| Language | English |
| Type | Presentation |
| Date | 17th July 2018 |
| Organisation | CFMS Services Ltd |
| Region | UK |
Download
Back to Search Results