Academic Symposium Keynote: Big Simulation – Future Issues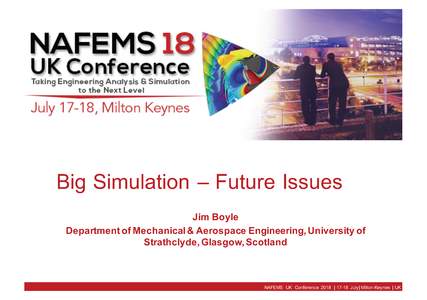 This presentation was made at NAFEMS UK Conference 2018, Taking Engineering Analysis and Simulation to the Next Level".

The NAFEMS UK Conference 2018 brought together all those involved in analysis and simulation from every corner of industry and academia, giving them an opportunity to advance their knowledge, give their organisations a competitive advantage, and a chance to be part of improving the technology itself.

Resource Abstract

The ambition of this First NAFEMS UK Academic Symposium is to "… address issues facing individuals and organisations engaged in education and training, in support of the effective use of analysis and simulation technologies …". The aim of this presentation will be to explore and debate the theme of the symposium – Big Education/Simulation Issues. Having observed the development of simulation software for over forty years, being an active user while also committed to innovation in engineering education during this time, a conviction has emerged that a tipping point has been reached. This conviction is based on the belief that current (and future) simulation software capability has outpaced other equally important aspects of the engineering design and analysis process: advanced materials modelling, materials testing and design codification among others. If it is generally agreed that this is the case, then there are significant implications – both good and bad – for engineering education going into the future. These future issues will be developed in this presentation.
Document Details
| | |
| --- | --- |
| Reference | C_Jul_18_UK_22 |
| Author | Boyle. J |
| Language | English |
| Type | Presentation |
| Date | 17th July 2018 |
| Organisation | Strathclyde University |
| Region | UK |
Download
Back to Search Results