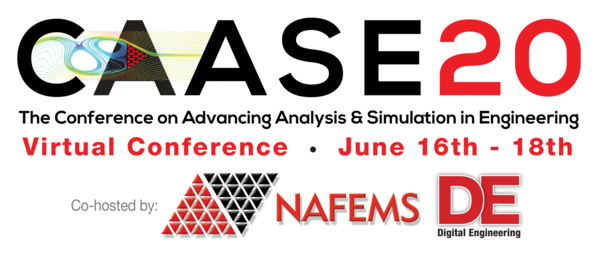 NAFEMS Americas and Digital Engineering (DE) teamed up (once again) to present CAASE, the (now Virtual) Conference on Advancing Analysis & Simulation in Engineering, on June 16-18, 2020!

CAASE20 brought together the leading visionaries, developers, and practitioners of CAE-related technologies in an open forum, unlike any other, to share experiences, discuss relevant trends, discover common themes, and explore future issues, including:
-What is the future for engineering analysis and simulation?
-Where will it lead us in the next decade?
-How can designers and engineers realize its full potential?
What are the business, technological, and human enablers that will take past successful developments to new levels in the next ten years?
Resource Abstract
Simulation technology has changed significantly in the last 10 years, keeping pace with advances in hardware, software and user experience. Have your workflows kept pace? Do you use CAE to simply replace physical prototyping or are you using these tools to set the context for digital twins? To help in conceptual design? To derive preventative maintenance strategies for your operating assets? Simulation today encompasses so many tools and processes — how can you get in on the action?