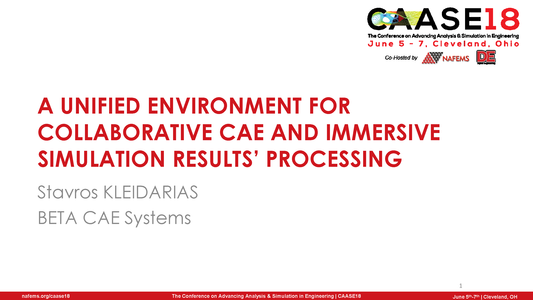 This presentation was made at CAASE18, The Conference on Advancing Analysis & Simulation in Engineering. CAASE18 brought together the leading visionaries, developers, and practitioners of CAE-related technologies in an open forum, to share experiences, discuss relevant trends, discover common themes, and explore future issues.

Resource Abstract

Ever since the first CAE simulations there has always been a need to examine digital models as close to reality as possible. Technology limitations meant that this was done on digital models with unrealistic graphics representation and on a PC monitor. Also, the evaluation of simulation results by engineering teams on different design centers was proven to be inefficient and time consuming, being based on exchanging tediously prepared images, videos and reports.



BETA CAE Systems has invested heavily in this field to offer a complete solution in the form of a collaboration hub. Through this hub engineers, even from different physical locations, can meet in virtual working rooms and collaborate using the software solutions of BETA CAE Systems easily and efficiently. These solutions span from process orchestrating, data management, modeling, solving, and results visualization. Collaboration can be in the 2D field, using common PC monitors, handheld devices, or even in a virtual reality using META, the post-processor of BETA CAE Systems, through its support of the HTC VIVE and Oculus VR headsets. It also offers the capability for communicated with text or audio/video and file posting and sharing with encryption. Sessions can also be recorded for later playback along with notes (sketches, annotations, etc.). This solution offers to engineers a unique tool for the evaluation of LS-DYNA simulation results with unrivalled realism, aided by the

Physically Based Rendering (PBR) and environment mapping capabilities of META. Engineers can easily assign Physically Bases Rendering materials on simulation models and load image backgrounds, the reflections of which will be realistically rendered on the model, closely matching the displaying quality of render dedicated software. All above applications can run on cloud.



With this cutting edge technology BETA CAE Systems offers to engineers a powerful tool that paves the way for the collaborative CAE analysis of the future.