Roadmap to Adopting Private or Public Cloud Simulation as a Service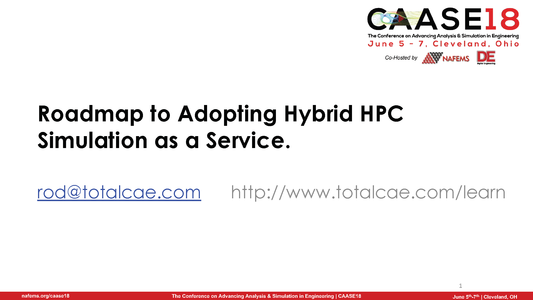 This presentation was made at CAASE18, The Conference on Advancing Analysis & Simulation in Engineering. CAASE18 brought together the leading visionaries, developers, and practitioners of CAE-related technologies in an open forum, to share experiences, discuss relevant trends, discover common themes, and explore future issues.

Resource Abstract

Learn how companies are adopting the latest trends High
Performance Private and Public Cloud Computing to accelerate simulation and data management. Several customer case studies will be presented to show real-world solutions to customer challenges, and a roadmap to adopting simulation as a service.

Topics include:

1. Types of Cloud Computing for Engineers
- Private (Hosted or Customer Datacenter)
- Public
- Hybrid
- ISV Application Native

2. Pros of Cons of Each option and how to select the right strategy for your company.


3. How to choose between various major public cloud options

- Azure
- AWS
- GCE

4. FEA/CFD licensing in the cloud

5. Data Bottleneck Solution Overview

- remote viz
- compression technologies
- scripting techniques

6. Security

7. Real world ROI

8. Benchmarks

- On Premise HPC cluster vs Cloud
- Cloud vs Cloud

9. Real World Customer Case Studies

- Medical Devices - Secure Cloud Data Storage for Simulation Data
- Automotive - Hybrid Cloud for CFD
- Consumer Electronics - Private Cloud Simulation as a Service
- Automotive - Hosted Simulation as a Service
- Oil and Gas - Public Cloud Unlimited Design of Experiments
- EDA - Customer ROI Case Study


At the end of this presentation attendees will have a good understanding of the current landscape for HPC computing for private and public cloud, and how leading companies are adopting these technologies to speed up their time to market.

Speaker Bio: Rodney Mach is President of TotalCAE, a leading provider of Managed FEA/CFD Private & Public Cloud HPC solutions. Rod is a 21 year veteran in utilizing High Performance Computing for engineering simulation.

Mr. Mach has a B.S.E in Electrical Engineering from the University of Michigan, and MBA from Wayne State. Prior to starting TotalCAE in 2006, he led the University of Michigan High Performance Computing center.
Document Details
| | |
| --- | --- |
| Reference | CAASE_Jun_18_11 |
| Author | Mach. R |
| Language | English |
| Type | Presentation |
| Date | 7th June 2018 |
| Organisation | TotalCAE |
| Region | Americas |
Download
Back to Search Results