Two-Wheeled Scooter Dynamics: Strains and Load Reconstruction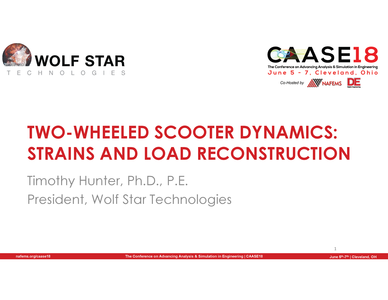 This presentation was made at CAASE18, The Conference on Advancing Analysis & Simulation in Engineering. CAASE18 brought together the leading visionaries, developers, and practitioners of CAE-related technologies in an open forum, to share experiences, discuss relevant trends, discover common themes, and explore future issues.

Resource Abstract

Experienced simulation and test engineers who work on products undergoing complex loading from the environment, customer loading and internal loading know that obtain load time histories that reproduce measured strains from test in the simulation environment is close to impossible. This workshop will demonstrate how to prepare an FEA model and test specimen to perform the full load reconstruction in methodical fashion. The workshop will include live testing and data collection. The demonstration object will be a two wheeled Razor Scooter. Correlation between measured strain and simulated strain from the load reconstruction will be displayed. This course will discuss the broad application of the technology to a large segment of the structural based simulation environment. This technology is one of the enable factors for the successful implantation of Digital Twins.
Document Details
| | |
| --- | --- |
| Reference | CAASE_Jun_18_117 |
| Author | Hunter. T |
| Language | English |
| Type | Presentation |
| Date | 6th June 2018 |
| Organisation | Wolf Star Technologies |
| Region | Americas |
Download
Back to Search Results