Implementing Rules-Based Simulation Automation for Democratizing Automotive Wheel Design - The Goals, Challenges and Successes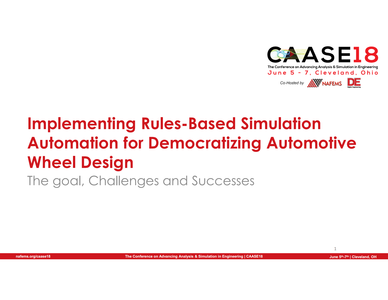 Superior Industries is a global automotive supplier dedicated to the design and manufacturing of automotive wheels. With manufacturing facilities in North America and Europe, Superior is the second largest aluminum wheel supplier in the world.

Superior uses general-purpose CAD-based simulation tools for the analysis and design of their products. These general –purpose tools are utilized by all of Design Engineers during the development phase of the wheel. Superior also has a dedicated CAE Group that focuses on specialized analysis methods which are necessary to validate and optimize the wheel designs. The Superior CAE Group consists of 10 engineers who have specialized skills in a wide variety of FEA methods, including many advanced non-linear methods. This CAE team creates very high fidelity FEA meshes to discretize the underlying CAD geometry. Because of highly-stylized details in the A-surface geometry on the face of the wheel and small cast-in details that can act as stress risers, meshes created at Superior in the CAE Group must follow a rigorous set of rules. There is a balance between the size of the mesh, potential error created by the mesh size, and the solving time required to maintain project throughput.

The desire is to substantially automate the meshing process in order to free time for the CAE experts to spend more time analyzing simulation results. Improved wheel designs are developed when the CAE team has increased time to solve problems rather than creating FEA meshes. Over the last year, senior engineers at Superior have been working with the implementation team at Comet Solutions to develop and deploy a simulation automation template to significantly improve the efficiency of the wheel design and analysis process.

The initial implementation and deployment of the finite element analysis automation template has demonstrated the efficiency of this approach for wheel analysis. With the traditional manual approach, the expert analysts at Superior would take 4-8 hours to create a finite element model for analysis, with the potential errors that are generated in a manual process. Wheel geometry is highly complex, and the emphasis on accurate stresses requires adherence to a lengthy set of detailed meshing rules and conventions. Also, there are a large number of complex loading conditions that the wheel designs are subjected to. With the new approach, engineers in the CAE Group can create an accurate model ready for analysis in less than 30 minutes, starting from a new raw wheel CAD model. This has been transformational.The authors will describe the challenges that were faced during the implementation of the template, the extensive and careful validation process, and the successes that were achieved.
Document Details
| | |
| --- | --- |
| Reference | CAASE_Jun_18_129 |
| Author | Hood. T |
| Language | English |
| Type | Presentation |
| Date | 5th June 2018 |
| Organisation | Superior Industries |
| Region | Americas |
Download
Back to Search Results