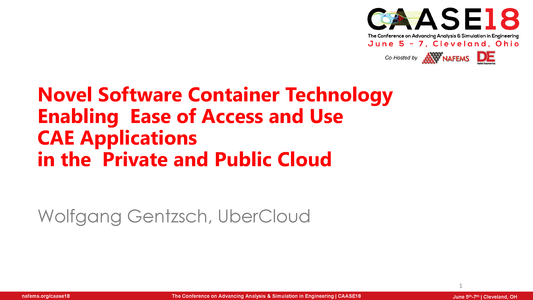 This presentation was made at CAASE18, The Conference on Advancing Analysis & Simulation in Engineering. CAASE18 brought together the leading visionaries, developers, and practitioners of CAE-related technologies in an open forum, to share experiences, discuss relevant trends, discover common themes, and explore future issues.

Resource Abstract

Engineers still struggle to access and use the cloud for their complex simulations. Application software containers make all these cumbersome steps obsolete; they are pre-packaged, fully portable, easy to access and use, and without loss of performance; no need to learn anything about high performance computing nor the cloud, thus enabling - what we call - the democratization of HPC for engineering applications.

In this contribution we will introduce novel software technology based on Docker containers which we have developed over the last four years with more than two dozen features needed to run engineering High Performance Computing (HPC) applications in a simple, seamless, and effective way, with access and use identical to the engineer's desktop. These HPC containers are software packages designed to deliver all the tools an engineer needs, ready to execute, in an instant. The engineer's application software is pre-installed, configured, and tested, in the container, and running on bare metal or in VMs, without loss of performance, on private and public clouds. These containers are widely applicable and can be used for any simulation software and complex engineering workflow; they can be packaged just ones, and then run everywhere, on any Linux platform.

We will demonstrate these container benefits with presenting a life sciences simulation use case from the Living Heart Project, performed by researchers from the Living Matter Laboratory at Stanford University, and supported by Living Heart Project members from SIMULIA (Abaqus 2017), Advania (cloud resources), and UberCloud (software containers, and sponsored by Hewlett Packard Enterprise and Intel. It is based on the development of a Living Heart Model (LHM) that encompasses advanced electro-physiological modeling. The goal of this project was to create a biventricular finite element model to be used to study drug-induced arrhythmias of a human heart.

Before a new drug reaches the market, pharmaceutical companies need to check for the risk of inducing arrhythmias. Currently, this process takes years and involves costly animal and human studies. In this project, the Living Matter Laboratory of Stanford University developed a new software tool enabling drug developers to quickly assess the viability of a new compound. This means better and safer drugs reaching the market to improve patients' lives.

Cardiac arrhythmia can be an undesirable and potentially lethal side effect of drugs. During this condition, the electrical activity of the heart turns chaotic, decimating its pumping function, thus diminishing the circulation of blood through the body. Some kind of cardiac arrhythmia, if not treated with a defibrillator, will cause death within minutes.