Requirements of Certification by Analysis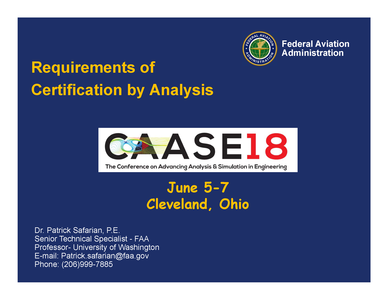 This presentation was made at CAASE18, The Conference on Advancing Analysis & Simulation in Engineering. CAASE18 brought together the leading visionaries, developers, and practitioners of CAE-related technologies in an open forum, to share experiences, discuss relevant trends, discover common themes, and explore future issues.

Dr Patrick Safarian has kindly provided supplementary material to support his presentation. The conference presentation is available via the "Members Download" button to the right while the supplementary material can be accessed via the links below.  
Supplementary Material:
Document Details
| | |
| --- | --- |
| Reference | CAASE_Jun_18_30 |
| Author | Safarian. P |
| Language | English |
| Audience | Manager |
| Type | Presentation |
| Date | 7th June 2018 |
| Organisation | Advanced Aviation Enterprises |
| Region | Americas |
Download
Back to Search Results