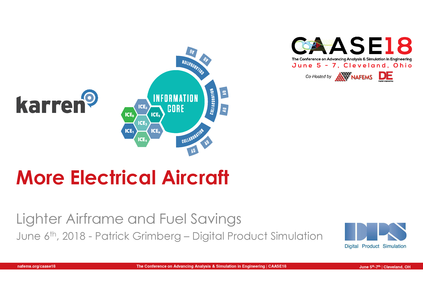 This presentation was made at CAASE18, The Conference on Advancing Analysis & Simulation in Engineering. CAASE18 brought together the leading visionaries, developers, and practitioners of CAE-related technologies in an open forum, to share experiences, discuss relevant trends, discover common themes, and explore future issues.

Resource Abstract

Aerospace industry is driven by weight constraints and structures lightening to ensure better performances and higher fuel economies, ultimately providing a greater flying experience to customers.

This paper will focus on a project aiming to expand an aircraft flight's duration. To answer this issue, additional tanks need to be added to the aircraft structure. This modification impacts the overall aircraft lifecycle from pre-concept architecture design to maintenance phases.

To reduce certification risks and reduce costs, it appears necessary to reuse existing data to better define a reference configuration, common to all actors involved in the project who will then perform trade-off studies starting from it.
As a matter of fact, several engineering entities happen to work concurrently. Therefore, they need a solid framework enabling efficient collaborative teamwork.

KARREN (Knowledge Acquisition and Reuse for Robust ENgineering) offers an enabling technology that complements all Product Lifecycle Management (PLM), Computer-Aided design (CAD), Computer-Aided Engineering (CAE), and Design Space Exploration (DSE) technologies by providing the ability to capture and reuse engineering knowledge about behavior, enabling collaborations which combine these different areas into a cohesive, coordinated Simulation-Driven Design project.

KARREN ensures consistent use of design parameters and rules while enabling knowledge capture and reuse in order to warrant best practices for product performance studies across multiple disciplines for "Behavior Based Collaboration".
Throughout this paper, we will demonstrate how different actors, entities, tools and even organizations have been helped to collaborate using KARREN framework all the way through this project.

We will particularly focus on how simulation experts utilized KARREN to manage their analysis work, sharing their simulation results both with designers and other analysts to ultimately leverage their technical work throughout the overall project.
Finally, we will illustrate configurations that came up from this engineering collaboration and new aircraft structures fulfilling initial objectives and requirements.