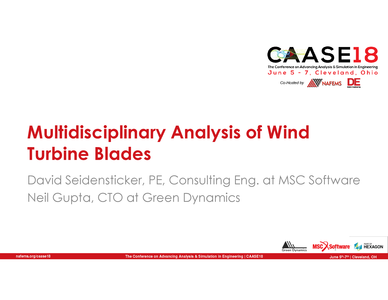 This presentation was made at CAASE18, The Conference on Advancing Analysis & Simulation in Engineering. CAASE18 brought together the leading visionaries, developers, and practitioners of CAE-related technologies in an open forum, to share experiences, discuss relevant trends, discover common themes, and explore future issues.

Resource Abstract

Structural simulation has traditionally been a discipline performed by analysis engineers in isolation from other groups during the design and manufacturing process. However, design choices made to ensure structural integrity have ripple effects throughout the manufacturing process, affecting the manufacturability, cost, and ultimate profitability of a product. The Digital Manufacturing and Design Innovation Institute (DMDII) has funded partnerships between industry, academics, and software experts to break down traditional barriers and better enable digital integration throughout the manufacturing process, with the goal of producing a more streamlined, optimized, and ultimately democratic production cycle. A recently completed project called BladeMDA, focusing on composite wind turbine blades, was funded to create a usable cloud-based tool that enables and promotes communication between engineering, manufacturing, and business units from the earliest design cycles. The team focused on turbine blades as a relatively straightforward product with sufficient complexity to demonstrate the advantages and capabilities of the approach, but with some effort it could be adapted to a wide variety of different products and processes.

For the BladeMDA project, multiple, powerful analysis codes were integrated into a single automated model environment built on a lightweight Java-based platform and hosted on remote computing resources. The architecture and user interface eliminate the need for model translation across analysis packages and simplify the learning curve required to operate advanced structural and fluid dynamics codes, while allowing users on heterogeneous devices throughout an organization to easily share the same development tool as they collaborate on the product design. The completed specifications can be directly used on the shop floor within the same software environment to access fully digital work instructions that are generated automatically. This linkage of codes is modular and easily adaptable to other composite forms. Additional codes can readily be linked in for specialized domain feedback such as structural dynamics or rotor downwash. The result is a design that at each stage of the process is optimized for cost, manufacturability, and functionality, as the vision is realized in a detailed specification and physical product.