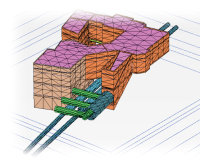 Numerical analysis using finite element and finite difference methods has transformed from a niche to a mainstream design tool within geotechnics in the last decade. This is due to the development of sophisticated yet accessible 2D and 3D programs that model the ground and adjacent structures, together with increased training in the use of this technology.
Many lessons are learned through hindsight. Looking at case histories is not only a great way to understand post design behaviour of the structures installed; there are also significant benefits in learning from what others have done, through both their positive and negative experiences.
This seminar highlighted successes, near misses and failures in geotechnical engineering when involving the use of numerical analysis.
Two eminent geotechnical engineering professionals who have helped pioneer the development and application of these programs gave keynote lectures during the morning and afternoon sessions. There were also presentations made by a number of leading geotechnical engineering companies on their experiences using numerical analysis.