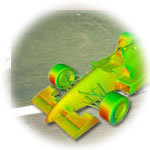 The application of numerical simulation methods is now an integral part of the design process. This also applies to structures in which currents play an important role. The models studied are always non-linear and mostly physically very complex; They can, for example, comprise the turbulence modeling or the peeling behavior. Frequently, heat transfer, including convection and radiation, must also be considered. The detection of further physical phenomena such as the fluid-structure coupling requires a corresponding expansion of the rake models. In all these numerical investigations, the definition of boundary conditions and networking is particularly important.
In recent years, software products in the field of flow mechanics have been developed very far, especially with regard to user friendliness and reliability of the results. This is a perpetual process. The hardware developments of the parallel and graphics processors can be used very well for the solution of CFD tasks and lead to significantly lower computing times.
These developments in software and hardware have led to numerical simulation in the field of flow mechanics being at the forefront of the design process. In some industrial areas it is used before the actual component construction. To continue this process, it is important to intensify training in this direction. Above all, special emphasis must be placed on the validation of the results. Only in this way can numerical simulation significantly reduce the number of prototypes and tests.
At this event different applications, methods and also limits of innovative CFD applications in the product development are shown by numerous examples from industry, research and university. An exhibition of commercial software and service companies in the field of numerical flow simulation accompanies the seminar.
The seminar is organized by the NAFEMS Steering Committee for Germany, Austria and Switzerland in collaboration with the NAFEMS DACH CFD Advisory Board (CAB).