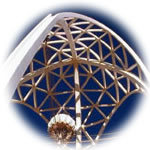 The well-known disciplines such as design (CAD), calculation (CAE) as well as the area test often work autonomously. In the case of product development, however, the interaction of the different divisions (divisions) is of decisive importance and an excellent opportunity to deviate from the competitor. A fundamental improvement requires a high degree of integration of the different disciplines, with a continuous process sequence for a substantial increase in efficiency. The use of CAE, which is indispensable for optimizing and improving products, must also be considered. In the case of globally operating companies, these aspects are even more important in accelerating the entire development process, despite growing complexity. A structured and documented, compliant use of CAE is also used to secure the products, in order to minimize errors and recourse claims.
The integration of CAE throughout the development process from the concept phase, the detailing up to the release has the goal that the workflows and the interfaces are defined, as well as the services and / or what to supply when is clearly regulated. Today, modern CAE tools are used throughout the CAD process up to "advanced" CAE in order to optimally support the simulation or analysis and documentation.
The seminar will present the "best practices" for increasing efficiency through the use of CAE in product development. The seminar is intended to show the current state of the art and the state-of-the-art theory and software For practical application. This includes knowledge and experience on application, illustrated by interesting case studies, and the clarification of the limits and possibilities of process automation as well as requirements from the user perspective.