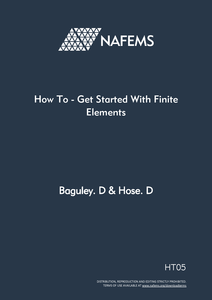 Due to the evolving nature of the engineering analysis and simulation market this publication no longer represents current best practice and has been archived. The document may be of historical interest and is therefore still available for purchase.
This book is for readers intending to introduce Finite Element Analysis (FEA) into their organization. The best approach will depend on the size of the organization, the purpose of the FEA, the scale of the analysis to be undertaken, and the type of staff employed. A range of possibilities is considered, but the bias is towards an organization starting with no in-house capability for FEA.

Most of the 'How to….' Books are intended to provide guidance to new users of FEA. This booklet forms a summary and there are many references to the other booklets in the series. The reader may not intend to be directly involved in the FEA itself, but responsible for providing or managing the resources that will be required. Therefore the emphasis here will be on decisions affecting the provision of resources.
The process of establishing an FEA capability is shown diagrammatically in Figure 1.1. The first major decision is to use FEA. The book Why do Finite Element Analysis? discusses the benefits of FEA and logically it should be read before proceeding to the other sections in this book.
The order of the events in the flow chart is not hard and fast, and some will be redundant if the resources already exist. It is important however that decisions concerning manning be made early in the process since this has a profound effect on the viability of the enterprise, and also permits staff to be involved in the selection of the software.
Contents
Preface

Introduction

Resources
FE Training
Theory

Software Usage

Application Techniques

Benchmarks