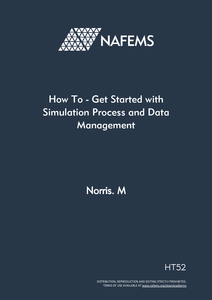 Simulation Data Management (SDM) technology has been extremely successful in supporting the day-to-day activities of Professional Simulation Engineers in dozens of leading companies, enhancing simulation quality, providing traceability and increasing engineering throughput. After 20 years, the overwhelming majority of successful deployments are of SDM systems provided by expert, specialist SDM vendors or of systems built in-house. Usage of other generic information systems, such as Product Data Management (PDM) or Content Management (CM), to manage Professional Simulation Engineers' simulation data is essentially zero and most file data is still stored on shared drives. It has become apparent many projects to manage simulation data have failed, mainly due to inexperienced sales staff from non-specialist vendors proposing simplistic, inappropriate or immature solutions with inadequate, inexperienced professional services. As a result, usage of SDM Solutions to manage analysts' simulation data is currently limited to 1-2% of the Professional Simulation Engineer (PSE) population.
Objective
The objective of this book is to provide prudent, actionable, vendor independent, information and best-practices on how to approach an SDM project and achieve a first successful SDM deployment as well as identifying pitfalls to avoid based on facts and data from 20 years of SDM project experiences.
Intended Audience
The intended audience includes managers, chief engineers and scientists responsible for modelling and simulation activities within their organisation who seek guidance on how to initiate and run a project to select and then deploy an SDM Solution. This includes staff starting SDM projects for the first time and staff with negative experience of simplistic, inappropriate or immature solutions who wish to understand fit-for-purpose SDM technology and how other organisations have been successful. Not all product offerings sold for managing simulation data and processes, or even claiming to be "SDM", are fit for purpose.
Scope
This book focusses on the selection and deployment of SDM solutions for PSEs who use numerical methods such as FEA and CFD. PSEs are employed to use their expertise and experience to plan how to use simulation software to address a particular engineering challenge and reach conclusions with the required level of confidence. The sequence of activities performed by the PSE depends on the specific problem, the software selected, and the results obtained at each step. PSEs therefore need a specialised information system which records their activities, manages any complex set of simulation data and minimises laborious data management tasks. This book is an introduction to SDM, not an exhaustive textbook on all aspects of this complex and extensive domain. The management of simple simulation datasets for Computer Aided Design (CAD) embedded applications is not the primary focus of this book. Whilst the simple datasets created by design engineers in CAD-embedded simulation applications can be managed in an SDM Solution, these datasets can also be managed in the PDM/Product Lifecycle Management (PLM) systems which underpin these engineer's CAD system. Such applications are generally supported by prescriptive workflows to guide the non-specialist in the use of the software. Out of scope are "democratised" simulation applications which have been designed and built for use by engineers who are not simulation specialists. These must include extensive error checking in the pre-defined workflows to ensure that the simulation software and method is used within the envelope for which it has been verified and validated. These workflows are necessarily prescriptive since the validity of the results is primarily the responsibility of the Professional Simulation Engineers who designed the application rather than of the engineer running the "democratised" application. The management of these pre-defined simulation datasets for democratised applications is usually achieved in a relational database or the PDM database which underpins the CAD system in which the democratised simulation application is embedded.
Contents
| | | |
| --- | --- | --- |
| 1 | Introduction | 1 |
| 2 | The Simulation Data Management Solution | 7 |
| 3 | 20 Years' Experience of SDM Deployment | 15 |
| 4 | How To Develop an SDM Strategy | 19 |
| 5 | Justifying SDM | 27 |
| 6 | Identifying the Simulation Management Capabilities Needed | 31 |
| 7 | Identifying the Simulation Management Capabilities Needed | 37 |
| 8 | SDM Technology and Solution Providers | 39 |
| 9 | The SDM Software Selection Process | 45 |
| 10 | Integrating Simulation with Processes & Systems | 49 |
| 11 | SDM Project Considerations | 53 |
| 12 | Conclusions | 61 |
| 13 | Glossary | 63 |
| 14 | Acronyms | 69 |
| 15 | References | 71 |
| 16 | Professional Simulation Engineer Competencies | 77 |
| 17 | About the Author | 81 |