Shape Optimization Based on an Adjoint Method for Improving Aerothermal Performance of Heat Exchangers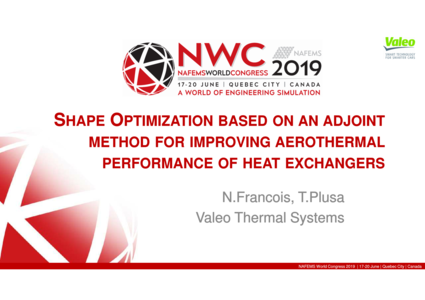 This presentation was made at the 2019 NAFEMS World Congress in Quebec Canada

Resource Abstract

Valeo Thermal Systems designs and manufactures systems, modules and components to optimize thermal management of vehicles and passenger comfort in the cabin. Our products are used to convey and to cool or warm fluids (air, oil, coolant) for instance radiators, battery coolers, inter coolers.



The Thermal Systems Business Group pursues three strategic objectives that address the new challenges facing the automotive industry:

- reducing pollution emissions produced by vehicles powered by internal combustion engines,

- optimizing battery range and lifespan in hybrid and electric vehicles,

- protecting the health and well-being of passengers.



Since energy saving is a key concern for our customers, they firmly request low pressure drop levels and high thermal efficiency in their specifications. The ability to propose optimized products becomes an asset for competitiveness.

A new optimization method based on an adjoint solver is being proposed in order to optimize the performance of heat-exchangers in terms or pressure drop reduction, flow and temperature homogenization in a short time frame. The shape modification is handled directly by the tool STAR CCM+ without requiring iterative interactions between simulation and CAD. This method does not depend on any set of design parameters, but relies on the assessment of potential improvement prior to any change.



The process can be described as follows:

- a cost function is defined for the optimization process. It can be any combination of pressure drop minimization and flow/temperature homogenization,

- a RANS calculation is performed in first then the adjoint flow is solved. A derivative of cost function is calculated in each control point.

- a gradient based algorithm provides guidance on the shape morphing through small wall displacements at each iteration.



This process is implemented in STAR CCM+ and automated through macros in Java to drive solving, stopping criteria sensitivity analysis, morphing, remeshing and optimization.
Document Details
| | |
| --- | --- |
| Reference | NWC_19_296 |
| Author | Francois. N |
| Language | English |
| Type | Presentation |
| Date | 18th June 2019 |
| Organisation | Valeo Thermal Systems |
| Region | Global |
Download
Back to Search Results