Mechanical Effects of Casting & 3D Printing Defects – Simulation and Validation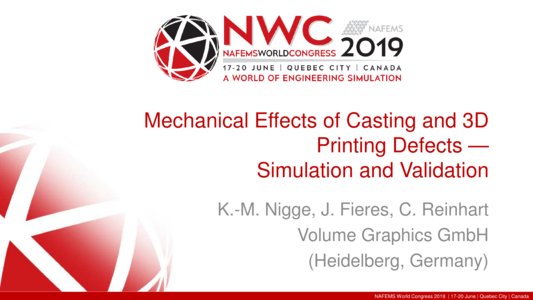 This presentation was made at the 2019 NAFEMS World Congress in Quebec Canada

Resource Abstract

Classical FEM simulations may not always be well suited for micromechanical simulations of 3D printed components with defects because they require the generation of geometry conforming meshes which must be fine enough to capture all relevant geometric details and coarse enough to keep the computational effort at a practical level on the other hand. Recently, efficient immersed-boundary finite element methods have been used to overcome this meshing problem. The approach was validated successfully against classical FEM simulations for a solid cube, a cubic lattice and single pores in tension rods with both idealized and realistic geometries. Further, a comparison between experimental and simulated results of tensile tests was conducted for two types of 3D printed components, showing a good agreement. The simulation approach can be used to assess the effects of defects such as porosity in cast or additively manufactured components.
Document Details
| | |
| --- | --- |
| Reference | NWC_19_314 |
| Author | Nigge. K |
| Language | English |
| Type | Presentation |
| Date | 18th June 2019 |
| Organisation | Volume Graphics GmbH |
| Region | Global |
Download
Back to Search Results