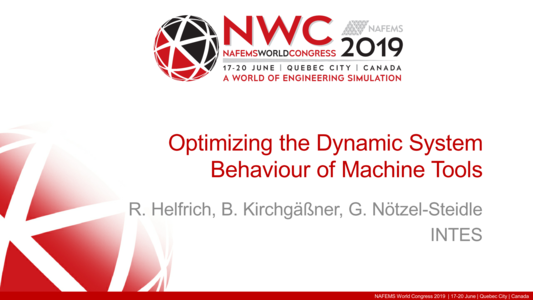 This presentation was made at the 2019 NAFEMS World Congress in Quebec Canada

Resource Abstract

The dynamic behaviour of a complete machine tool including workpieces is crucial for the development of such machines. The accuracy of the motion of tables and tools is absolutely essential for the accurate resulting surface shape of the workpieces. Fast positioning and fast machining are important, the first with very small to no vibrations and the latter with high cutting depths and no chatter.



The complete system comprises structural parts, drives of the various axes, their control, and rotating spindles. During the interaction of tool and workpiece, the dynamic forces are causing vibrations of the machine, which have to be damped out sufficiently by all system components. Finally, the machine tool should provide highest accuracy and cutting depth at high speed.



The FE (Finite Element) method is the standard method for numerical vibration analysis in many application fields. So, it is quite natural to use this method for complete machine tools. Of course, drive components and control have to be included in the FE model in an appropriate manner. Then, all known analysis methods like real and complex eigenvalue analysis, frequency response analysis, and time-history response analysis are available for the computation of the dynamic behaviour of the machine tool. In particular, numerical stability analysis of machine tools is of utmost importance for the development of machine tools to predict stable process parameters and chatter frequencies.



For lightweight designs of machine tools, topology optimization provides the right features to save weight while keeping the controlled dynamic behaviour within the required limits. In addition, another important activity in developing machine tools is tuning, where the control parameters are modified to get the best possible machine behaviour. This is also an important application of optimization integrated in FE analysis, which allows a completely integrated tuning by simulation.



A simple milling machine model is used to show the modelling, analysis, and optimization of machine models from eigenfrequencies up to stability charts. Dynamic analyses and optimization of dynamic behaviour is a central point to be shown. All computations are carried out using one industrial FE software (PERMAS).