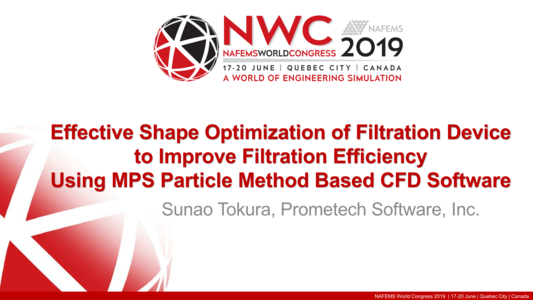 This presentation was made at the 2019 NAFEMS World Congress in Quebec Canada

Resource Abstract

Various particle methods are currently proposed as a method of computational fluid dynamics simulation. The particle method can be easily applied to problems that conventional mesh - based solution is difficult to apply, and is expected as a method to complement the constraints of the mesh - based solution method. As a well-known particle method, SPH (Smoothed Particle Hydrodynamics) can be cited, but SPH has been originally developed as a method for modelling compressible fluids such as interstellar gas. On the other hand, in this paper, we will discuss particle method MPS (Moving Particle Simulation) developed for modelling incompressible fluid[1]. Many of the fluid problems to be solved in the design and development process of industrial products used commonly are incompressible, so MPS is considered as suitable solution for these purposes.



In this paper, MPS was applied to the shape optimization problem of filtration device for working fluid. Since filtration efficiency of this filtration device is not acceptable under the present design, optimization technique was applied to improve filtration efficiency by optimizing the shape of parts controlling the flow in the filtration device. Multi-objective optimization was applied to shape optimization to improve filtration efficiency and to maximize the capacity of filtration tank. In addition, another optimization algorithm was applied for shape optimization and the result of simulation using optimal solution and experiment were compared. As the result, large improvement in filtration efficiency was confirmed through the experiment.



In this research, the merits of using the particle method for the shape optimization of flow path is clearly shown. For example, the mesh-based method requires remeshing due to the change in the shape of the fluid domain. In contrast, the particle method does not require remeshing during optimization phase. In the mesh-based solution, the result of optimization calculation may be influenced by changing the mesh because of mesh dependency of the flow, but mesh dependency does not exist in the particle method. Furthermore, with the particle method, it is easy to control the calculation time to specify resolution of particles (particle size), and it is possible to efficiently execute many analyses while keeping constant accuracy. In this paper, effective and reliable simulation technique for optimization problem in CFD field is demonstrated.