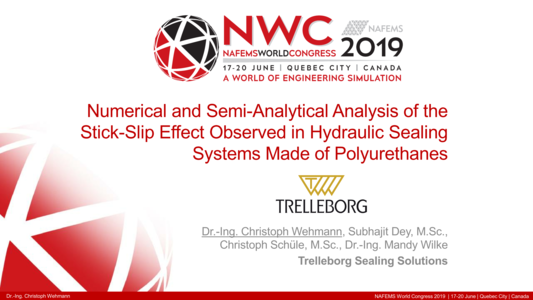 This presentation was made at the 2019 NAFEMS World Congress in Quebec Canada

Resource Abstract

The stick-slip effect is an often-observed problem of hydraulic seals made of Polyurethanes. It occurs at low velocities and creates a quite high noise as well as leads to increased wear. It is connected to a large difference between the static friction coefficient and the dynamic friction coefficient. This large difference is typical for Polyurethane materials and material developers are in charge of reducing this difference.



Today, the solution often is to avoid Polyurethane in stick-slip critical applications and use PTFE material compounds instead. However, this leads to higher system costs due to the high price of PTFE compounds. Therefore, it would be advantageous to be able to avoid stick-slip in Polyurethane based sealing systems. As friction itself, stick-slip is not only depending on the material system and the relative velocity of the counter surfaces. It is also depending on the surface roughness, the lubrication, the contact area size, the temperature and the contact pressure. Furthermore, the stick-slip effect is influenced by the force-displacement characteristic of the seal in axial and in radial direction. Hence, the design of the seal respectively the sealing system is also changing the stick-slip behavior. In addition, since the effect is of dynamic nature, inertia forces are important, too. Following this, a fully dynamic simulation has to be carried out and the density plays a role.



The present contribution deals with the simulation of the stick-slip effect by the Finite Element Analysis. The FEA allows to capture most of the influencing quantities listed above. However, capturing all these quantities and influencing parameters can require a lot of input parameters and may lead to long computational times. Concerning computation times, it is also interesting to apply analytical approaches during early phases of the product development process. Therefore, a semi-analytic approach is used in this contribution, too.



All considerations are made for rod seals used in hydraulics. The procedure used to simulate the stick-slip behavior and their results will be compared to work done so far by other researchers. These are for example Valigi et al., Bielsa et al. or Lindner, Kröger and Popp who investigated the stick-slip effect and its simulation.



The simulation results will be evaluated through a Fourier Transformation in order to get the occurring frequencies. These results will be compared with experimental test data obtained on a hydraulic test rig. Finally, this comparison is used to assess the numerical procedures that were used. It will be shown that an appropriate FEA model is able to predict the stick-slip reduction through the damping seal concept which was presented by Wilke et al.