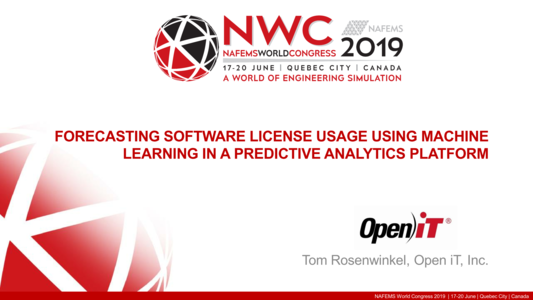 This presentation was made at the 2019 NAFEMS World Congress in Quebec Canada

Resource Abstract

Oil and gas businesses depend on high cost exploration & production software applications. These software assets are used heavily throughout functions involved in finding and producing oil from upstream, midstream, and downstream operations. Petroleum companies are leveraging tracking, management, and optimization technologies to drive efficiencies in their usage of these capital investments. A recent research by Society of Information Management shows that, as a group, Business Intelligence, Big Data, Data Mining, Analytics, and Forecasting have become the largest portion of IT investment in organizations across industries, ranking over cyber security and cloud computing.



This research will present our work to introduce usage forecasting into our metering and optimization tool. In October 2018, we automated our statistical forecasting method by selecting changepoint sensitivities to optimize an adaptive fit to changing trends and multiple seasonalities in a generalized additive model, using time series data from over 25000 software asset feature usage measurements. We will present our work transitioning to a machine learning approach, exploring Long Short-Term Memory and Attention Encoder-Decoder architectures to improve forecast confidence, extend the horizon, and make more efficient use of computation and storage resources.