Automated Model Build Process Through an SPDM System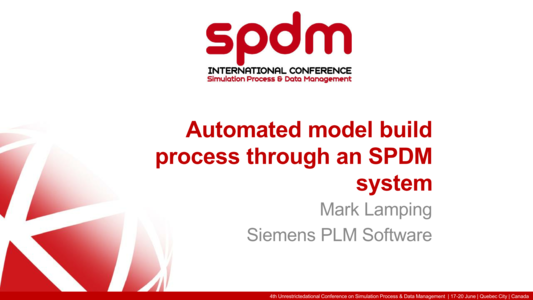 This presentation was made at the 2019 NAFEMS World Congress in Quebec Canada

Resource Abstract

In order to improve the responsiveness of simulation teams, companies in automotive, aerospace, and other industries must reduce analysis turnaround time. Process automation and more efficient collaboration of work between designers and analysts are possible solutions to achieve this reduction.



A new-age simulation software which supports automation coupled with modern build process and simulation process and data management (SPDM) system enables this efficient collaboration between analysts and designers.



A modern build process can automate many steps such as simplification of geometry, intelligent identification, and meshing of geometry features, application of connections and model assembly, application of boundary conditions and finally the generation of solver input decks.



Simulation process and data management (SPDM) systems can provide complete traceability from product performance requirements to simulation results and reports through a collaborative environment for designers and analysts across the enterprise to manage and automate simulation tasks and processes.



This paper demonstrates how CAE departments can speed-up the analysis process by automating model build while leveraging the automation capabilities of a modern pre-processor and a seamless SPDM system. Automation of such a build process not only can shrink turnaround time but also enable democratization of simulation among non-expert users. Also, the adoption of such a process can transform how analyses are performed in large and medium-sized enterprises.



In particular, this paper will show the application of CAE process workflows distributed across the design enterprise to aid automotive vehicle analyses. As each designer checks in their respective CAD parts, CAE processes are run automatically. These include the creation of multiple mesh representations tailored to the needs of specific analyses. The use of mesh templates defined with respect to specific analysis needs provides a generic approach to meeting meshing requirements in terms of element quality and geometry feature representation. The CAE model is assembled via a CAE Bill of Material (BOM) that accesses the managed CAE data. Connections between the CAE components are created by leveraging connection data defined in the CAD model. The result is a CAE model constructed with minimal user interaction while assuring that the most up to date CAD data is the foundation of the CAE model.
Document Details
| | |
| --- | --- |
| Reference | NWC_19_445 |
| Author | Lamping. M |
| Language | English |
| Type | Presentation |
| Date | 18th June 2019 |
| Organisation | Siemens PLM Software |
| Region | Global |
Download
Back to Search Results