Additive Manufacturing Process Chain Modelling and Simulation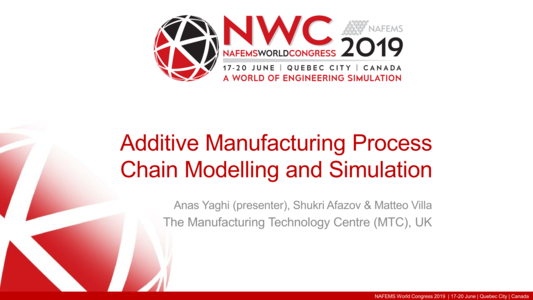 This presentation was made at the 2019 NAFEMS World Congress in Quebec Canada

Resource Abstract

This paper presents methodologies and applications of modelling and simulating the process chain of additive manufacturing (AM), in particular the process of laser-based powder bed fusion (L-PBF). The research discussed was carried out at the Manufacturing Technology Centre (MTC), which is one of the High Value Manufacturing (HVM) Catapult Centres in the UK. The paper presents the work in the context of a complete HVM process chain. The modelling and simulation part of the work is presented for each process in the chain and then assessed according to a readiness scale level especially developed for modelling and simulation.



The paper begins by discussing each element of the process chain and the corresponding simulation techniques. The first process is the AM build itself, the discussion of which begins with metal powder deposition and raking and the modelling of their behaviour. Here, the simulation of powder segregation, morphology, particle size distribution (PSD) and powder properties using the discrete element method (DEM) is presented. This is followed by a description of the modelling techniques of the applied L-PBF process using the finite element method (FEM). The assessment of residual stress and the compensation of distortion are discussed, including techniques to compensate distortion after both the AM build and post-process machining. The modelling of post-process heat treatment and surface treatment is then presented. The surface treatment techniques discussed consist of laser shock peening (LSP) and shot peening (SP), both of which have been modelled by using FEM.



Following the discussion of the process chain itself, a method for assessing the readiness level of the techniques involved in simulating each process is explained. This is the Modelling and Simulation Readiness Level (MSRL) Scale developed at the MTC. The MSRL assessment can be used as a guide for advancing modelling and simulation capabilities, in a similar fashion to how Technology Readiness Levels (TRLs) are used in relation to technologies.



Finally, a discussion is presented around applying the knowledge gained through modelling and simulation of manufacturing process chains to reduce production costs and structural integrity risks. Further, using the assessment of the maturity level of the process chain simulation helps with taking well-informed decisions and improve the chance of simulation adoption within the manufacturing industry.
Document Details
| | |
| --- | --- |
| Reference | NWC_19_459 |
| Author | Yaghi. A |
| Language | English |
| Type | Presentation |
| Date | 18th June 2019 |
| Organisation | MTC Operations Ltd |
| Region | Global |
Download
Back to Search Results