Transient CFD/CHT Analysis of an All-Ceramic Premolar Dental Bridge in a Dental Ceramic Furnace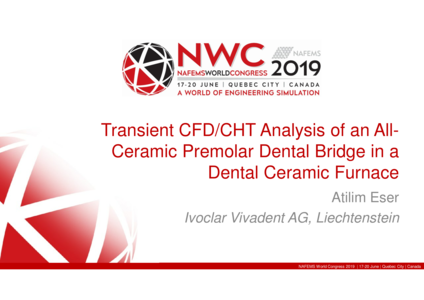 This presentation was made at the 2019 NAFEMS World Congress in Quebec Canada

Resource Abstract

During the last two decades, there has been an increasing demand in metal-free, glass ceramic restorations. Especially lithium disilicate reinforced materials are an attractive alternative to the conventional metal-ceramic restorations due to their good mechanical strength and their outstanding esthetical properties. However, the desired quality of the glass ceramic material can only be achieved by an appropriate heat treatment process. In order to guarantee an excellent quality of this material, the development of the temperature of the restoration in the furnace should be monitored continuously. For this purpose, infrared technology can be used to measure the temperature on the restoration during the complete furnace program. The infrared technology is a good technology to measure the temperature on the surface of the objects precisely. On the other hand for most of the thermal treatments in the dental ceramic furnaces, the core temperature (maximum) in the ceramic restoration should also be considered for the desired quality. In this study, a CFD/CHT (Computational Fluid Dynamics / Conjugate Heat Transfer) analysis was conducted in order to predict the temperature evolution in the restoration. The aim of the simulations was to ensure that the maximum temperature of the restoration is below the glass transition temperature of 560°C when the furnace signals to remove the restoration from the furnace. The results of this study showed that the maximum temperature in the restoration is much below the glass transition temperature where the furnace signal is adjusted even under extreme cooling conditions. Accordingly, the simulations showed that there is an important potential to shorten the cooling time.
Document Details
| | |
| --- | --- |
| Reference | NWC_19_484 |
| Author | Eser. A |
| Language | English |
| Type | Presentation |
| Date | 18th June 2019 |
| Organisation | Ivoclar Vivadent AG |
| Region | Global |
Download
Back to Search Results