Implementation of Simulation Driven Development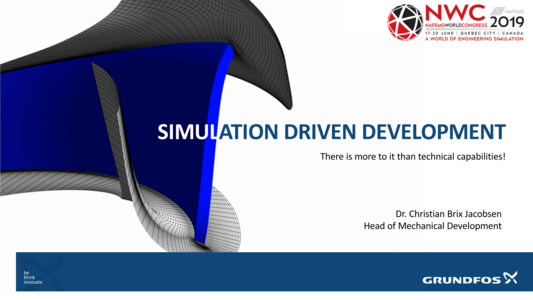 This presentation was made at the 2019 NAFEMS World Congress in Quebec Canada

Resource Abstract

The talk will cover the work that has been going on at Grundfos in regard to implementation of simulation-based design methodologies in Mechanical Development. Introducing SDD in an existing development organization has been a challenge that goes far beyond introduction of simulation tools. Most modern R&D facilities around the world has been using simulations for decades to validate their designs. The shift in paradigm that has been introduced at Grundfos is about using simulations to drive and optimize the designs. In the past most companies had engineers that used to build prototypes, test these and learn from the outcome of testing.



To use simulations to drive the design and explore the design space requires a fully digitized workflow. This goes all the way from parametric design tools that must be both flexible and robust to optimizer algorithms and various new simulation capabilities. The design engineers that used to build and test might have to change but the even the simulation specialist must change their mindset to not only be doing analyses to be doing design work. The story on how this was done in Mechanical Development at the world's biggest pump manufacturer is interesting for other industries to hear about.
Document Details
| | |
| --- | --- |
| Reference | NWC_19_491 |
| Author | Brix Jacobsen. C |
| Language | English |
| Type | Presentation |
| Date | 18th June 2019 |
| Organisation | Grundfos Holding A/S |
| Region | Global |
Download
Back to Search Results