The ITEA VMAP Project: How the Simulation Workflow of Blow Moulded Plastic Parts Benefits from the VMAP Interface Standard **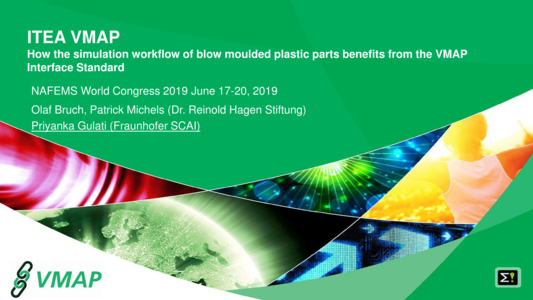 This presentation was made at the 2019 NAFEMS World Congress in Quebec Canada

Resource Abstract

The extrusion blow moulding process is the standard manufacturing method for hollow plastic parts like bottles, cans, fuel tanks and large containers. The applicability to complex geometries in conjunction with relatively short cycle times ensures a high economic efficiency of the process. However, because of increasing quality standards and competition with alternative processing methods, companies involved with extrusion blow moulding have to continuously enhance the quality of their products. There is a big industrial need for more reliable and more efficient design methods with faster response times. Therefore, the use of CAE methods is increasingly gaining attention. Consequently, the use of simulation procedures not only reduces development costs and time, but also reduces the need for prototypes and physical tests.



One of the biggest challenges regarding the CAE workflow for blow moulded products is the high complexity which involves a lot of data transfer between the different simulation steps. Dr. Reinold Hagen Foundation based in Bonn, Germany has been working on the enhancement of the CAE workflow of extrusion blow moulded parts for many years. The standard CAE workflow involves the process simulation of the parison inflation followed by the simulation of several product tests like drop tests, internal pressure tests or top-load tests. More recent research activities are dealing with the cooling behaviour - including a CFD analysis of the cooling channels inside the mould - and the related simulation of shrinkage and warpage which is a topic of increasing industrial demand. The following figure gives an overview of the whole CAE workflow.
Document Details
| | |
| --- | --- |
| Reference | NWC_19_493 |
| Author | Michels. P |
| Language | English |
| Type | Presentation |
| Date | 18th June 2019 |
| Organisation | Dr. Reinold Hagen Stiftung - Consultancy |
| Region | Global |
Download
Back to Search Results