This Website is not fully compatible with Internet Explorer.
For a more complete and secure browsing experience please consider using
Microsoft Edge
,
Firefox
, or
Chrome
Basic And Shape Sensitivity Tests For Membrane And Plate Bending Finite Elements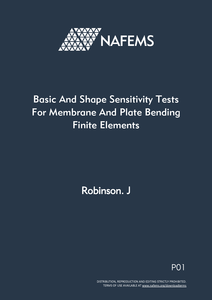 Due to the evolving nature of the engineering analysis and simulation market this publication no longer represents current best practice and has been archived. The document may be of historical interest and is therefore still available for purchase.
Benchmarks for element performance and shape sensitivity.


Basic element tests:
single element completeness tests for membranes


patch test for an assemblage of membrane elements


false zero energy mode tests for membrane elements


invariance tests for membrane elements


shape sensitivity tests for membrane elements


single element completeness tests for plate elements


patch test for an assemblage of plate bending elements


false zero energy mode tests for plate elements


invariance tests for plate elements


shape sensitivity tests for plate elements
Document Details
| | |
| --- | --- |
| Reference | P01 |
| Author | Robinson. J |
| Language | English |
| Audiences | Analyst Developer |
| Type | Publication |
| Date | 1st January 1985 |
| Region | Global |
Download
Purchase Book
| | |
| --- | --- |
| Order Ref | P01 Book |
| Member Price | £5.00 | $6.29 | €5.83 |
| Non-member Price | £15.00 | $18.85 | €17.49 |
Purchase Download
| | |
| --- | --- |
| Order Ref | P01 Download |
| Member Price | £5.00 | $6.29 | €5.83 |
| Non-member Price | £15.00 | $18.85 | €17.49 |
Back to Search Results