This Website is not fully compatible with Internet Explorer.
For a more complete and secure browsing experience please consider using
Microsoft Edge
,
Firefox
, or
Chrome
Benchmark Tests For Procedures in Geometric Non-Linearity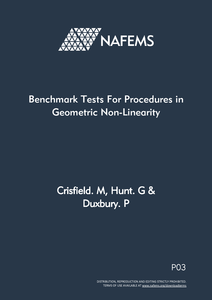 This report is one of a series commissioned by NAFEMS which seek to provide benchmark tests against which finite element systems can be evaluated. The present report considers the solution of large, geometrically non—linear, deflections of truss elements.

Document Details
| | |
| --- | --- |
| Reference | P03 |
| Authors | Crisfield. M Hunt. G Duxbury. P |
| Language | English |
| Audience | Analyst |
| Type | Publication |
| Date | 1st May 1987 |
| Region | Global |
Download
Purchase Book
| | |
| --- | --- |
| Order Ref | P03 Book |
| Member Price | £25.00 | $30.64 | €28.02 |
| Non-member Price | £75.00 | $91.91 | €84.04 |
Purchase Download
| | |
| --- | --- |
| Order Ref | P03 Download |
| Member Price | £25.00 | $30.64 | €28.02 |
| Non-member Price | £75.00 | $91.91 | €84.04 |
Back to Search Results